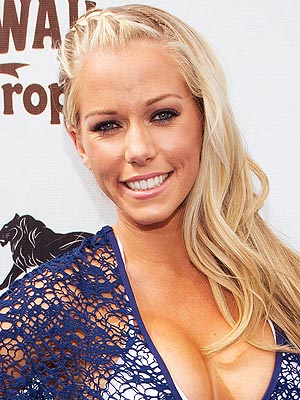 Happy Birthday to Adriana Lima and Kendra Wilkinson!
These two lovely Geminis are celebrating their lives with a bang. Reality star, Kendra Wilkinson, came a long way and now she can celebrate her journey on this very special day. If you ever saw her E! THS, you would know that she started off with dealing drugs from hanging out with the wrong crowd. She successfully got herself together once she grew up in front of Hugh Hefner's eyes when she became a playboy bunny. After being a regular bunny for five years she decided to start her own life with now husband of four years, football player, Hank Baskett. This loving couple has one child, Hank Baskett Jr. whom they had in 2009 also. Now the reality star had a book out and her own show on WE TV called, "Kendra On Top."
Victoria Secret Model, Adriana Lima also has something to cheer about. Known for her beautiful eyes and sexy catwalk, the 5-foot-10 supermodel is also celebrating her birthday today. Lima was born in Salvador, Bahia, Brazil and as a child,, she never thought of herself as ever being a model. Her luck changed when her and a friend signed up for a modeling contest not knowing she would win. Soon afterwards, her portfolio grew thick. She started off with being signed to Elite Model Management and then becoming a GUESS girl in 2000. It was that same year that she also became one of the angels for Victoria Secret. Today the Lima is married to basketball player, Marko Jaric whom which she has two kids with, Valentina (born 2009) and Sienna (born 2012).
Happy birthday again to both ladies!