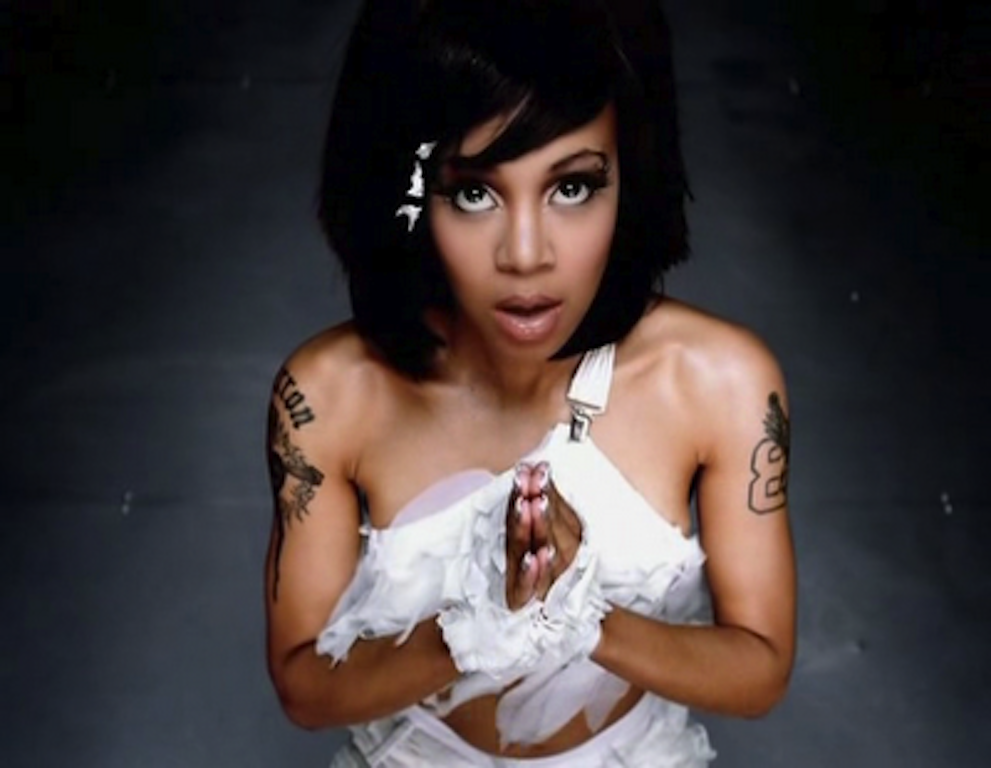 Thirteen years ago today, the world lost such a creative and wise rapper that took her creative talents to the top of the charts with her group TLC, Lisa "Left Eye" Lopes. Even though she was gone too soon, she helped TLC to still become the biggest selling female group in history.
She started her career off by joining forces with Tionne Watkins and Crystal Jones and formed the group, Second Nature. When things didn't work out with Crystal Watkins and Lopes continued on with their group and search for a third member. That member became Rozanda Thomas who adopted the nickname "Chilli" in order to fill in the "C" in TLC while Lopes and Watkins gave themselves nicknames to keep vibe going for TLC.
The group released their first album, "Ooooh On The TLC Tip," in 1992 that launched their career. The album featured their debut single, "Ain't Too Proud Too Beg" as well as their other hits, "What About Your Friends," Baby-Baby-Baby," and "Hat To The Back." The album went on to sell about 3 million albums.
The super group broke records with their sophomore album, "CrazySexyCool," by selling 10 millions reaching diamond status. During this era is where Left Eye's personal life became more public when she was involved in a toxic relationship with then-boyfriend, Andre Rison, of the Atlanta Falcons. On the night of June 9, 1994, Left Eye and Rison got into a bad fight and took matters into her own hands by taking boxes of tennis shoes from Rison's closet and dumped them in his bathtub. When she lit the flames the fire was meant to stay in the tub, but ended up lighting the entire house on accident. Throughout the chaos, TLC still managed to release four successful singles off the album including, "Creep," "Red Light Special," "Waterfalls," and "Diggin On You."
After five years of absence due to management and contract issues, TLC came out with another successful album, "Fanmail." This is where TLC was on a digital era with spacey sounds and images as they were entering the new millennium. The first single off the album, "No Scrubs," broke records for being the most radio played single in history. Their second single, "Unpretty," touched on a more sensitive subject dealing with self-esteem followed "Dear Lie," that was a more sentimental aspect of emotions.
Couple years after Fanmail, Left Eye went on her own to work on and release her solo album, "Supernova." This is where she really wanted to express her creativity and first single, "The Block Party," showed off her youthfully playful side. Sadly the album was only released overseas and not in the states. With this disappointment, Left Eye sought out peace in Honduras that she frequently visited for years where she got to unwind cleanse her spirit.
Also during this time TLC got back in the studio to work on their fourth album, "3D." This was TLC's chance to prove to the world that their are still a group coming out with new music. Happiness turned to tragedy when the feisty rapper got into a car accident in 2002. She was the only one out of about 10 people in the vehicle that was killed. This made the world question the future of TLC and of course T-Boz and Chilli will forever keep their sister's spirit alive. They finally released "3D" in November of 2002 and dedicated to their entire CD to Left Eye. Their first single, "Girl Talk," featured the girls wearing left eyes on their sweat suits and their dancers wearing black paint under their left eyes to represent their sister.
TLC still goes on tour and is the works to making new music with their sister Left Eye's memory and spirit in their hearts and their journey.
R.I.P Lisa "Left Eye" Lopes.
Left Eye is still greatly missed and loved by family, friends, and fans and is forever one of the top successful female rappers.